An innovative and broad summary is rich in statistics, updated in real-time.
The summary has a time section, allowing you to view statistics over a defined period or your whole Tablein lifetime.
With the simple time selection option, you can see detailed information for preferred time periods or days too.
By default, system shows 15-days statistic: 7 previous days, today and 7 upcoming days.
Select a period on the top right corner and overview the preferred period, you can choose period from a dropdown or select custom and select dates on the calendar.
Click to reset and select a new period.

Reservation overview
This section shows a number of guests.
In reservation overview, you can view statistics such as:
Total guests
No shows (%)
Cancelations (%)
Average party size
First-time visitors over the period (%)
With mouse cursor, you can navigate on every day to overview statistics by days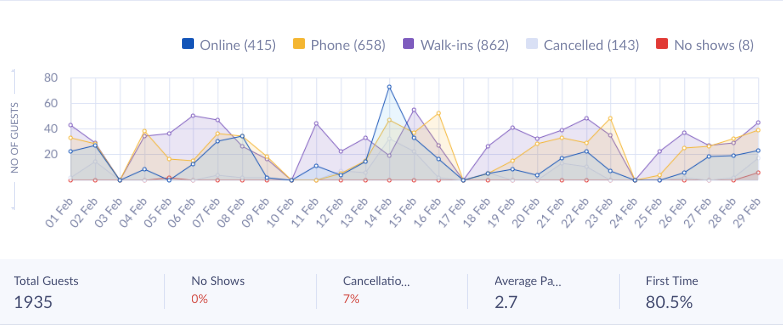 Most booked hours
Find out your most popular day and time in your Most Booked Hours summary.
Simply select a defined period or your whole TableIn lifetime, click on days and view your statistics day-by-day or across weeks.
This vital information will allow you to discover the best time to run special offers and discounts.
If you want to know how many guests you have during today's service, select a current date from period selection and only one day hours will be displayed.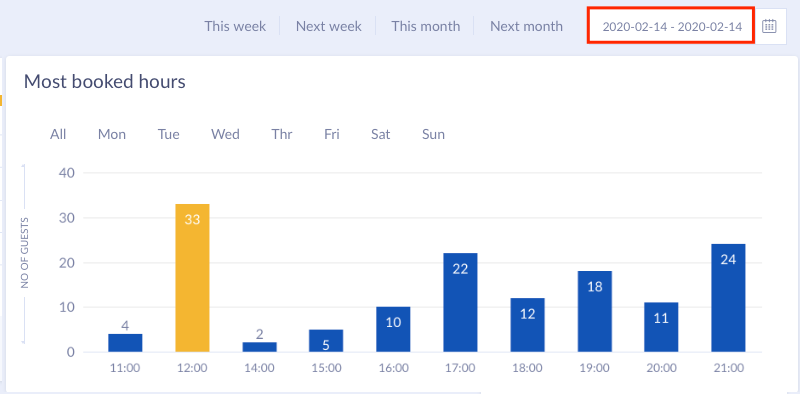 Reservation statuses
When reservation overview shows a number of guests, here you can find out a number of reservations.
Displayed in a colourful diagram rich in information, you'll be able to know exactly how many No Shows, Cancellations, and Arrivals your restaurant has had.
Tablein also tracks where your guests are from.
The Top Countries option displays up to 5 countries and which nationality of guest books most often, among other results.
This will allow you to customise your widget to these languages to make it easier for those guests to book
Average Rating and Feedback
Benefit from rating statistics.
Discover through data where and how you can improve your service. View data through helpful filters, including time periods, to see how feedback changes depending on times, days or periods.
Your most recent feedback will also be displayed on your dashboard in real-time, so it's available to you at a glance.
Subscribed Client Database.
Let your guest choose if they want to get your newsletter. Just in a glance will see how many subscribed clients do you have and compare with the total emails count. You'll know if clients are interested in your news.
Top Loyal Clients.
Reward your loyal clients with delicious gifts, additional attention or a glass of a favourite wine. Loyal clients are the most valuable clients.
To top loyal client system counts guest with arrived status.